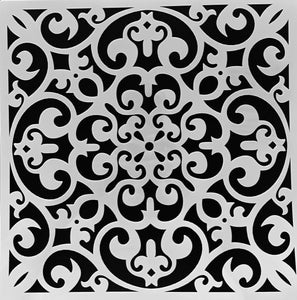 Filigree Elegance Stencil
Tax included.
Shipping
calculated at checkout.
---
---
Introducing the Filigree Elegance Stencil:
Experience the timeless beauty of our Delicate Filigree Elegance Stencil, meticulously designed to elevate your space. This 30x30cm stencil adds a touch of intricate charm to your floors, tiles, and furniture, effortlessly transforming ordinary surfaces into stunning works of art.
With its carefully crafted filigree pattern, inspired by the elegance of fine lacework, this stencil brings a sense of grace and sophistication to your home. Each delicate curve and intricate detail is precisely etched to ensure a flawless and professional finish.
The 30x30cm size provides ample coverage for a variety of surfaces, allowing you to create captivating designs with ease. Whether you're embellishing a feature wall, revamping a side table, or adding an artistic touch to your floors, the Delicate Filigree Elegance Stencil is the perfect tool for expressing your creativity.
Crafted from high-quality, reusable materials, this stencil guarantees durability and easy upkeep. Its versatility makes it suitable for various paint applications, from bold contrasting colors to soft, subtle shades. Let your imagination run wild and unlock endless design possibilities.
Please ensure appropriate surface preparation and choose compatible paints to achieve the best possible results.
---
We Also Recommend