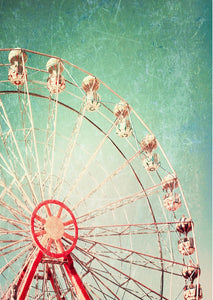 Ferris Wheel - Mint by Michelle decoupage papers
Tax included.
Shipping
calculated at checkout.
---
---
MINT decoupage papers have been created especially for furniture art and refurbishment. Each design is available in two sizes, A1 and A3 and printed on stock specifically chosen for decoupage. Our papers have been meticulously chosen to ensure your projects become works of art on completion.
Papers may appear larger/smaller in the web preview than they actually are. 
A3 - 297mm x 420mm / 11.7" x 16.5"
A1 - 594mm x 841mm / 23.4" x 33.1"
Tips for Getting More Value Out of Your Decoupage Tissue Paper
After you purchase your paper for decoupage, you are almost ready to restore your item or furniture. There are many materials that you can decoupage, one of the main ones being wood. You can also decoupage on to certain fabrics if you have the suitable adhesive for them.
When it comes to decoupaging wood, always lightly sand the surface. Make sure it's nice and smooth to avoid unwanted bubbles or bumps and make sure the surface is free of any old finish. It might be tempting to skip this step. However, if you take the chance, you might end up with an artwork that will start chipping and peeling later.
Many people prefer to paint their surface before they decoupage it. However, if you choose to do it, we recommend using Annie Sloan Chalk Paint  and, after it's completely dry, lightly sand over the paint again to make sure there are no bumpy surfaces in the paint. You can also use a primer coat instead of paint. Always make sure the first coat is completely dry before adding another coat of paint or primer over it.
If your adhesive is old and lumpy, it's best to buy a new bottle or strain it through a sieve; lumps and clumps will end up causing a mess, and you might not be able to save your artwork. Spare yourself the stress. In addition to these adhesive tips, never use your fingers to apply adhesive.
When you have all your supplies together, make sure your brush doesn't have any loose bristles. Bristles that fall out might end up in your adhesive and be transferred onto your project. When you brush on the glue, use quick and smooth brush strokes to prevent tearing and wrinkles in your paper. Try to use light and even pressure.
---
We Also Recommend